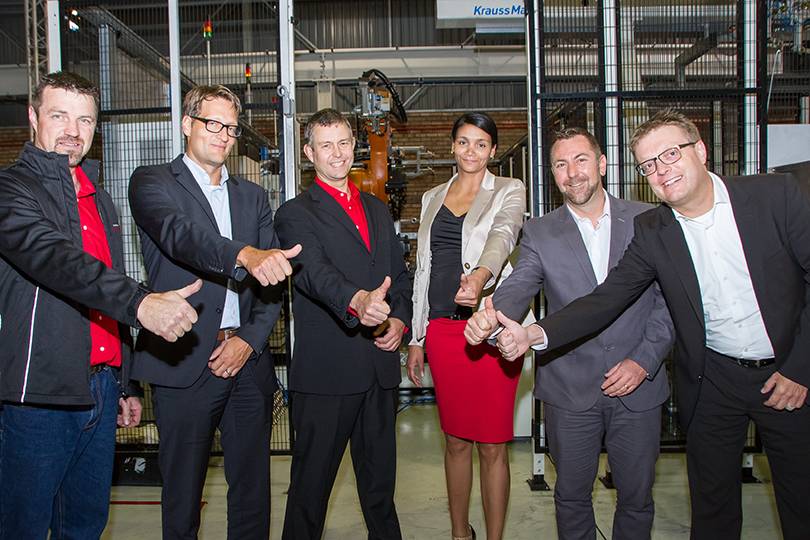 An innovative Swiss-South African trade partnership, launched in the Nelson Mandela Bay Logistics Park (NMBLP) outside Port Elizabeth today [SUBS: Weds 19 August 2015], is set to create opportunities for increasing local content in South African automotive manufacturing.
Under a global contract secured by Swiss company WEIDPLAS, its South African trade partner QPlas, a subsidiary of Cape Town-based plastic injection-moulding specialists QTeC Moulding, has set up a shop in the NMBLP to manufacture a range of interior, exterior and under-bonnet plastic components for Mercedes Benz South Africa (MBSA).
Backed by the partnership and technology of WEIDPLAS, the highly-automated QPlas plant is able to deliver components at the global quality standard expected by original equipment manufacturers (OEMs) in the automotive sector, enabling it to secure global contracts for local manufacture, thereby supporting increased local content and job creation in the local supply chain, QPlas managing director Tom du Toit said.
WEIDPLAS South Africa general manager David Krumbock said the company's unique trade partnership approach was more than a standard customer-supplier or outsourcing relationship.
"Our model is to secure global supply contracts and then form trade partnerships with local suppliers, supporting them with equipment, project management, skills development and technology transfer.
"This is not about an international company coming into South Africa and bringing its own people. It's about developing the local company and enabling them to compete globally, create employment and add value to the local economy.
"The intention is for QPlas to be able to grow their business off the back of an initial solid contract and project support provided by WEIDPLAS," he said.
Krumbock said that, since commencing production, WEIDPLAS had both grown volumes and started negotiations for supply of additional parts in order to "deepen localisation" for MBSA.
"We have also secured a supply contract for the new Toyota Hilus platform and are in the final stage of negotiations with VW for components for the VW Polo platform. Our goal is to become the supplier of choice of interior trim and under-bonnet components to global OEMs in South Africa, "Du Toit said.
Krumbock said WEIDPLAS's backing through securing the international contract, and its technical and project management support, led to "upskilling" of local companies and enabled them to secure business from global OEMs "as the risk is covered by the international partner, ensuring security of quality and an unbroken supply chain".
"The opportunity is now there for QPlas to develop the skills of its employees, ensure the quality of its operation, and seek out new business on the basis of a strong and credible foundation of what it has delivered to the WEIDPLAS customer," Krumbock said.
Du Toit agreed that the support of WEIDPLAS had enabled a "steep ramp-up curve" of just eight weeks fro the installation of machinery to the first delivery to MBAS..