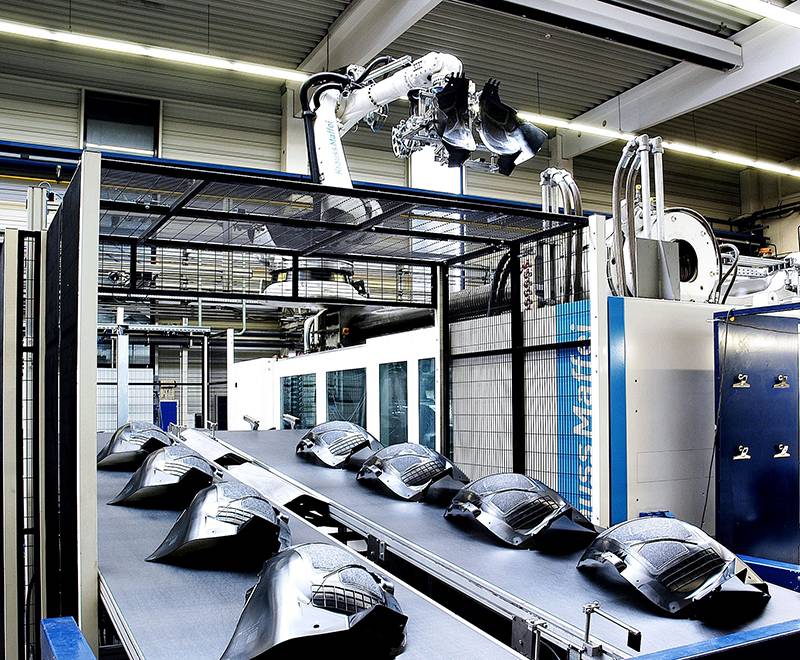 Germany-based automotive components group Nifco KTW is using KraussMaffei's Adaptive Process Control (APC) system to improve production quality of large PP components produced at its plant at Weissenburg, close to Munich.
The company has been using APC technology on its largest moulding machine – a 2,300 tonne KraussMaffei MX2300 – in production of wheel arch liners that it produces in a recycled PP. Production is challenging as variations in granule size, consistency and bulk density of the recycled material can result in viscosity fluctuations, which in turn impact on part quality.
APC is integrated into the MC6 machine control on the MX2300 machine. It measures a number of key parameters during injection of the polymer into the mould, calculating and implementing adjustments to the pressure switchover point and the holding pressure profile to compensate for melt viscosity changes within the same shot.
Nifo KTW has been using the technology to modify the process with definable limits to maintain a consistent part weight. "The use of the APC function enabled us to substantially improve continuous monitoring of melt quality, significantly reduce the subsequent rejection rate and guarantee preciss traceability of the components down to the individual shot," says Plant manager Albert Burghardt.