As the most recent addition to the Gocator 3100 series by LMI Technologies, the Gocator 3109 is ready to show that smaller is better.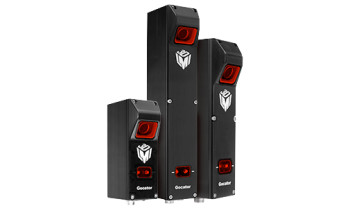 Gocator products with 3D non-contact measurement are intended for inline inspection. (Image courtesy of LMI Technologies.)
The Gocator 3100 series is comprised of compact, pre-calibrated stereo snapshot sensors built with quality inspections in mind. Delivering high-precision 3D cloud-point acquisition, measurement and control decision capabilities, they're designed to perform inline 3D scanning and inspections of stationary subjects and can do it whether they're fixed-frame or robot-mounted.
The little Gocator 3109, featuring all-in-one functionality, differs from previous models in its compact size. Measuring 49 x 100 x 155 mm and weighing in at just 1.5 kg, nearly half the size of its predecessor, the Gocator 3110, this LED projection scanner is designed to fit into confined spaces. This is especially handy for tasks such as measuring engine cylinders.
Its small size also makes it easy to mount onto robotic arms.
The Gocator 3109 is designed to function as an all-in-one sensor to minimize the number of components needed to conduct multi-feature inspections. This streamlines inspection systems, reducing system and maintenance costs.
"LMI saw a market need for an inspection system that could take measurements of multiple features in just one scan and with a higher degree of operational simplicity than standard industry solutions," said Chi Ho Ng, director of product management at LMI Technologies.
"From listening to customer feedback, we developed the Gocator 3109 with the ability to acquire high-resolution, full-field scans quickly in order to inspect multiple features of parts with complete 3D visualization and execute accurate pass/fail control decisions," he said.
Integrating multiple synchronized Gocator 3109s into a system could replace large-format 3D scanners with a 3D inspection system capable of delivering similar resolution for a lower price point.
For more information, visit the LMI Technologies Gocator product page.