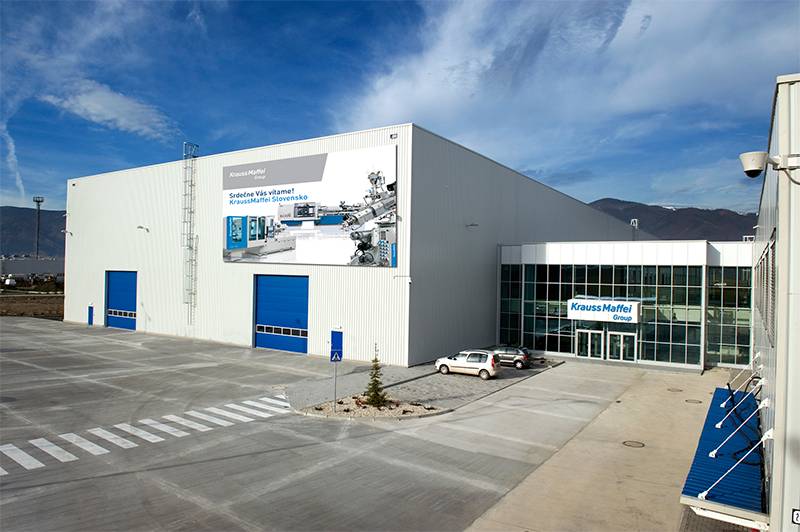 Friedrichshafen, Germany — Fakuma 2015 was the first opportunity for Frank Stieler to take to a public stage as the new CEO of KraussMaffei Group GmbH.
Since joining in June, after holding top management positions at Lurgi AG, Siemens AG and Hochtief AG, he has been busy learning about the plastics industry and KM's customers and broad technology portfolio, which spans the KM and Netstal injection molding machinery brands, Berstorff extrusion technology and its polyurethane machinery business.
"If you want me to talk about strategy, you will be disappointed," he told journalists at the KM news conference on Oct. 14 at Fakuma in Friedrichshafen. "I will not speak about strategy before 100 days in the job."
Stieler takes over from previous CEO Jan Siebert in a year when KM group, based in Munich, already is in good shape. Sales from January-June 2015 were 576 million euros, up nearly 11 percent from 521 million euros in the first half of 2014.
Stieler puts the group's success down to its staff.
"I have worked for many companies, but I've never worked with people who support their products, technology and brands with such enthusiasm," he said.
He expects this enthusiasm to continue, but his aim is to "lend even higher efficiency to these people because we have everything on board to be successful."
Stieler may be reluctant to talk about his plans at this stage, but he made it clear that the customer will come first in the company's strategy. "Whether a company grows, shrinks, opens new sites, it's the customer who decides this, no one else," he said.
A strong customer service organization is a priority for him. "This has been working well in the past and will continue in the future," he said.
During the Q&A session, Stieler responded to a question about the automotive market and whether KM thinks demand will suffer from any fall-out in the Volkswagen emissions testing scandal. He replied: "We assume demand in the automotive market will further develop. The volumes maybe will shift from one company to another. But I don't think that total demand volume in the market will decline."
The KM group's enthusiasm for products, technology and brands, highlighted by Stieler, was seen in key exhibits on its Fakuma stand.
Netstal reinforced its reputation for high-precision machines with what it is claiming to be a world first: injection compression molding (ICM) using stack molds. At Fakuma, Netstal demonstrated the process on an Elion 2800-2000 machine using a 4+4 cavity mold, making a margarine tub from PP that weighs only 10.7 grams. The project required close collaboration between Netstal, the French mold maker Plastisud SA and the automation specialist Machines Pagès SA, based in France.
The ICM process involves partially filling the mold cavities at a speed of 100 milliseconds, before the mold is fully closed. The process is performed at a low pressure which reduces stress in the material. Netstal says the high quality of the platen parallelism guarantees a synchronicity of 99.98 percent between the mold, machine and automation system.
Markus Dal Pian, vice president, sales and marketing at Netstal, said: "It's not rocket science, the technology is already established. But it's not been done before with stack molds."
He said there are various benefits of the ICM process compared with injection molding. It reduces the clamping force needed, so the 280-ton Netstal machine is about half the size of machines already in the market for such packaging applications.
The mold is filled a lot faster too. Overall cycle time of 5 seconds is not class-leading, but Dal Pian called it "quite respectable."
But where the ICM process really comes into its own is the better quality product and the material savings that can be gained.
The use of ICM can achieve 20 percent part weight reduction compared to an injection molded part with the same mechanical properties. In the example of the margarine tub, ICM saves 2.3 grams of polypropylene, which corresponds to savings of 124,000 euros in material costs per year, said Dal Pian.
Hans Ulrich Golz, managing director of KraussMaffei and president of the group's injection molding machinery segment, said the machines were shown under the banner "Productivity Plus" at Fakuma.
The FiberForm process was demonstrated on a CX 300 machine producing airbag housings in cycle times of 42 seconds. The process combines injection molding with thermoforming of composite sheets to improve the strength of fiber-reinforced plastics. A weight reduction of 47 percent is achieved, in comparison with airbag housings already in production.
"I think this is a huge performance — 47 percent speaks for itself," Golz said.
The AX 50 SilcoSet is from KM's all-electric AX range, and has been developed for clean room processing of liquid silicone rubber for medical applications. The machine produced a nasal ventilator at the show.
On a black demonstrator part, KM showed a variety of surface effects, such as high gloss, matt and even holograms. The polycarbonate part, made on a CX 160 machine, demonstrates an alternative to in-mold decoration for creating high quality surfaces using Dynamic Mold Heating (DMH), a dynamically inductive mold temperature control system from RocTool SA of France.
The effects were created by laser etching the surface of the mold. The partners are Schöfer GmbH of Austria (mold), GF Machining Solutions of Switzerland (laser technology), Oerlikon Balzers Coating AG of Liechtenstein (mold coating), Incoe Corp. of the United States (hot runners), Motan-Colortronic GmbH of Germany (materials handling), ONI Temperiertechnik Rhytemper GmbH of Germany (temperature control) and Sabic of Saudi Arabia (material).
Golz also mentioned KM's consideration of the Industry 4.0 trend, saying the group has been developing "smart solutions" for years. A number of machines on the group's stand are badged "Ready for Industry 4.0". KM's own approach is called Plastics 4.0 and involves its patented Adaptive Process Control (APC) system installed on its injection molding machines.