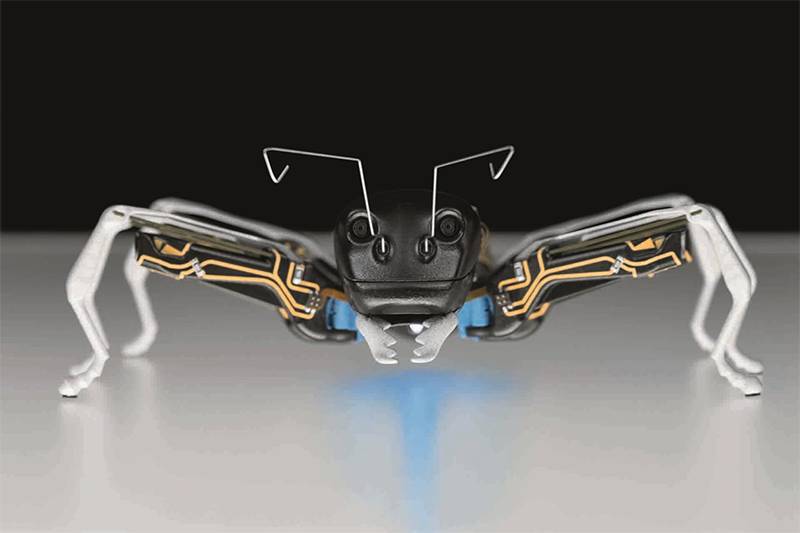 Fakuma exhibitor Festo is making some surprising technology that mimics animals, writes David Vink in this feature for Plastics News Europe.
Are these the insects that spoil Iron Man's picnics? Industrial controls and automation company Festo used additive manufacturing technology to create robotic ants – the company calls them BionicANTs – that mimic both the appearance and functions of the real insects.
BionicANTs were designed on bionic principles, with the shape and functions of real ants. They also use autonomous networking technologies – yes, ANTs – that help the plastic versions cooperate and communicate with each other in the insect world.
Festo laser sinters the BionicANTs legs and body from polyamide. The 135mm-long ants each weigh 105g.
Circuitry for the ants is applied by LaserMicronics in Garbsen, Germany, as technology scout and service provider for the laser direct structuring (LDS) process. This involves application of ProtoPaint LDS, a special lacquer from LPKF Laser & Electronics in Garbsen, Germany. LDS lacquer application is followed by selective laser activation of the conductive additive in the lacquer to make it conductive just where circuit tracks are then required to be gold plated.
Each ant makes its decisions autonomously, but in doing so it is always subordinate to the common objective and thereby plays its part towards solving the task in hand, according to Festo.
Festo is part of a Bionic Learning Network, a group of companies, universities and institutes that use technology to mimic animals – both to kick-start innovation and inspire young people to take an interest in technology. Other examples of the BLN's work include a gripper that's like a chameleon's tongue, and mini-butterflies that fly together using GPS technology.
The company presents its BionicANTs as "a stimulus for production of the future with the cooperative behaviour providing interesting approaches for the factory of tomorrow, with future production systems founded on intelligent components adjusting themselves flexibly to different production scenarios and taking on tasks from a higher control level."
Circuitry on the ant legs provides component functions such as the antenna with a charging contact function and piezo-ceramic bending transducers for leg movements. The rear-body circuitry accommodates a radio module for ant-to-ant communication, a signal processor and a charging/conversion unit to convert 8.4 volts from the two lithium-ion batteries in the central body to the 300 volts needed for transducers on the legs and the gripping jaws, which is distributed to the movement actuators by a ring circuit on the central body.
An optical sensor chip in the "abdomen" of the central body records distance covered according to the floor structure and the head has a 3D camera.
BionicANTS recently won an award from 3D MID, the German trade association for 3D moulded interconnection devices. The association increasingly covers not just injection moulded products, but also those produced with additive manufacturing techniques. The awards were announced at the SMT Hybrid Packaging surface mounted electronics technology fair in Nuremberg.
Festo is no stranger to awards. The company also won the seventh Arburg energy efficiency award in 2014. This was for energy-saving measures applied to injection moulding facilities at its new Festo Polymer plant in Rohrbach/Diedesbühl, Germany.
The plant, touted as Festo's "high technology centre for polymer materials," also was a beta customer for Arburg's new AKF Freeformer additive manufacturing machines already prior to their official launch at K 2013.
Festo had already been involved in additive manufacturing for a long time, for example with fused deposition manufacturing (FDM) with polymers and use of EOS Formiga P100 selective laser sintering (SLS) equipment to produce items in an EOS PA220 powder grade of polyamide 12. The latter has included a "Bionic Handling Assistant" (BHA) robot arm and "FinGripper" grippers using bionic principles based on elephant trunks and trout fins, developed together with the Fraunhofer IPA production automation institute in 2010, when Festo was producing 150 FinGrippers in less than 24 hours.
The company's head of advanced prototyping technologies, Klaus Müller-Lohmeier, predicted in 2010 that SLS and FDM procedures would probably be standard in five years. But he clearly had not reckoned then with including AKF Freeformer technology, of which he has meanwhile praised features such as the ability to use standard plastics. Festo intended to use the AKF initially for prototyping and later also for small series production.
Klaus Hilmer, formerly head of polymer technology at Festo, became managing director of the new Festo Polymer subsidiary and stated at the Arburg 2014 energy award ceremony that Festo would have to consider whether it should stay with SLS (or FDM) in future, in view of AKF Freeformer advantages.
Also at the Arburg 2014 award ceremony, Curt-Michael Stoll, vice chairman of Festo, stated: "Festo stands for people who are lateral thinkers and for taking new paths in customer innovations. It is the DNA that binds us and has also inspired us to be better. This has very high importance, as it stands for innovation strength – the DNA of Festo, with people looking for new things. It is also important for future capability and operating from locations in Germany. It shows what family-owned companies can put into motion."
Another 3D MID award went to Harting Mitronics in Biel (Bienne), Switzerland, for the miniature, highly integrated MID-based optical and heating systems used in the 190 g DIAGNOcam laser fluorescence-based dental caries diagnostic equipment of KaVo Dental in Biberach, Germany.
This hand-held device exposes teeth to light at a wavelength of 780nm to identify cavities through colour differences with healthy teeth.
At the October 2014 3D MID congress, Harting Mitronics project manager Frank Wittwer said the MID lens carrier and heating element involves 11 components and that lead-free solder is used to vapour phase (condensation) solder components to the 3D MID circuitry.
The circuitry is moulded in the Vectra E 840i LDS grade of liquid crystal polymer from Celanese, as a material containing a laser direct structuring additive for LPKF's LDS process. Wittwer said production started in 2003 after 15 months development and had grown to reach 2,500 units per year by 2014.