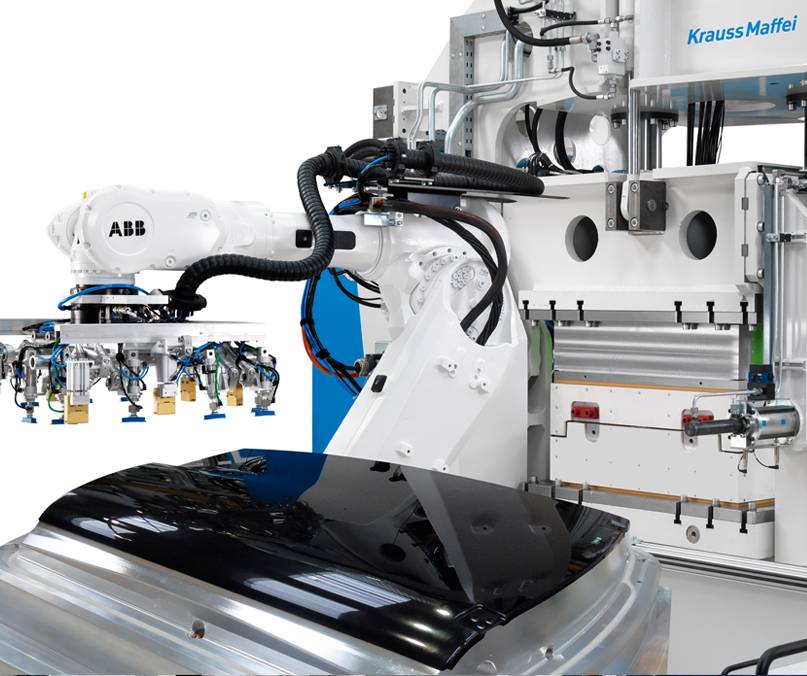 KraussMaffei will be demonstrating the production of an automotive fibre compound structural component with metal inlays under series production conditions, at K 12016 in Düsseldorf. Frames for the roof shell of the Roding Roadster R1 sports car will be created on the exhibition booth several times a day using the T-RTM procedure.
KraussMaffei's T-RTM procedure unites the benefits of reaction process machinery, thermoplastic materials and shaping in the transfer moulding procedure (resin transfer moulding, RTM) – and is thus the perfect combination for modern lightweight construction.
T-RTM in brief
In a press mould, a pre-shaped semi-finished product made of fibre layers is infiltrated with caprolactam which immediately before was fused and mixed from two components (caprolactam base plus activator/catalyst). A chemical reaction hardens this in the cavity to form the thermoplastic polyamide 6.
"The Roadster roof frame is based on a hybrid construction of fibres in conjunction with plastic and metal. The production process on the KraussMaffei K 2016 exhibition booth will last about two minutes. The system is intended for high-volume projects and is designed for multiple-shift operations," explains Erich Fries, head of the Composites/Surfaces business unit at KraussMaffei.
The T-RTM process has various benefits over parallel plastic processing procedures, e.g. the familiar RTM with epoxy resin or polyurethane (PUR). The low viscosity of just five millipascal-seconds (mPA·s) – similar to water – allows the matrix material caprolactam to penetrate the fibre layers even with low internal mould pressures.
For the application demonstrated at the exhibition, a clamping force of approx. 350 tonnes is sufficient, meaning lower costs for investment and energy. In addition, the high flow capacity allows the minimum wall thickness to be reduced and the fibre volume content increased by about 60 percent.
Lower material consumption and simpler post-mould finishing
A so-called near-net-shape approach, that is closely contoured production, allows the material input rate of plastic and expensive carbon fibres to be reduced. That in turn reduces material costs. In addition, the post-mould finishing steps are also kept to a minimum.
While component has to be separated for non-near-end-shape processes, for example milling the edge areas, a thermoplastic tear-off edge causes this to come free from the mould for the selected component. Besides the near-net-shape approach, the multi-preform concept also effects a further reduction in fibre waste and allows a (sectional) load-dependent fibre architecture.
Compared to the three-dimensionally networked thermosets, the chain-like structure of thermoplastics constitutes a unique attribute: they can be reheated and reshaped, making them weldable and recyclable. The roof frame material can be regranulated and used together with its fibre portion to produce parts in the injection moulding process.
The mechanical properties of PA6 are also interesting for structural components. The thermoplastic features higher impact strength and more ductile fracture behaviour than thermosets. That means that forces can be absorbed by the material deforming before a fracture occurs.
Comparing T-RTM with injection moulding – the classic area of application of thermoplastics – its benefits can also be seen in its high fibre content and low viscosity, which allows parts with a very thin walls to be produced.
"For structural components, T-RTM represents a rational supplement to the familiar RTM technologies and KraussMaffei is making full use of its extensive expertise in plastics processing. KraussMaffei is the only supplier on the market to manufacture both mixing and metering technology and presses smaller than 1000 tons in our own facilities, enabling us to promote the development of the overall system," explains Fries.
A current innovation that will be completed by the K 2016 aims to make the fusing process more demand-orientated, which has a positive effect on material aging.
Besides KraussMaffei, the following development partners were also involved in producing the Roding Roadster R1 technology demonstrator: Forward Engineering (component design, hybrid concept), Alpex Technologies GmbH (T-RTM mould), Dieffenbacher (production of preforms/handling), Saertex (fibre layers), Henkel (bonding), Handtmann (aluminum inlays), TUM / LCC (fibre selection) and Keller (extraction technology).
Catch KraussMaffei at the K 2016 trade show, Hall 15, Booth B27/C24/C27/D24
Source: www.krausmaffei.com
.