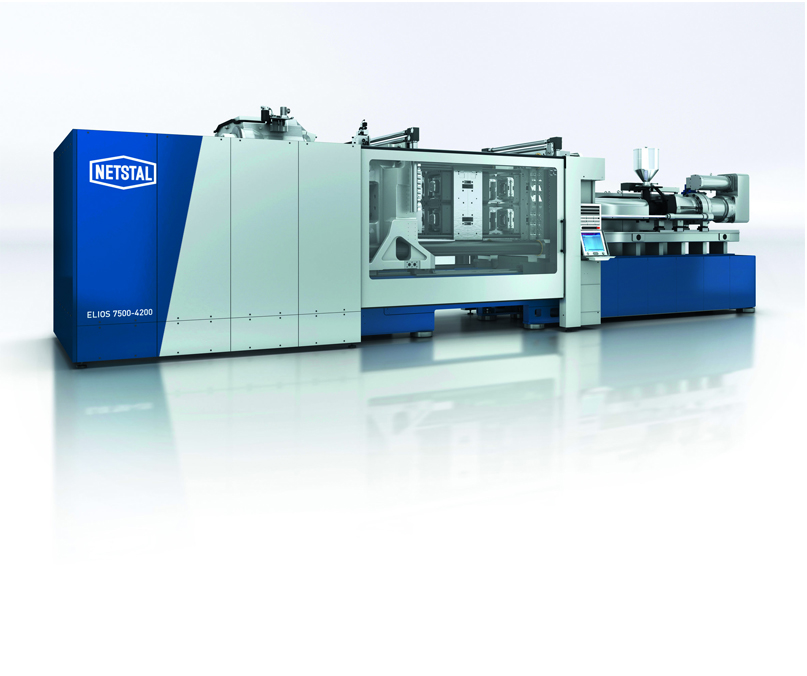 Netstal recently introduced the new ELIOS series with the model 7500-4200 at K 2016 underscoring its leading position in high-performance injection moulding of thin-wall packaging and technical components for constructive lightweight design.
High-performance injection molding in a clamping force range of 7 500 kN
When developing the new series, Netstal focused on the high standards of users in the field of thin-wall packaging. "Our main intention was to close this target audience's gaping performance hole on the market in the clamping force range of 7,500 kN," said Markus Dal Pian, Netstal's Vice President Sales & Marketing.
"True to our motto 'Engineering Excellence' we did not merely want to build a very fast machine. Instead, we also wanted to offer the high precision, reliability and cost effectiveness that the Netstal brand is known for and that is valued by our customers," added Dal Pian.
Patented clamping unit drive with recuperation of kinetic energy
A high-performance clamping unit with a 5-point dual toggle lever is the main component of the new series. A particularly innovative and patented design for the actuation of the toggle lever is being used.
"Due to the clever combination of a dynamic electro drive and a powerful hydro-mechanic assistance system, a high movement speed can be reached even with high clamping forces," explains Marcel Christen, Netstal's head of product management.
As a result, the performance data of the new clamping unit is impressive: the dry cycle time is merely 1.9 seconds according to the Euromap standard. "That makes the ELIOS 7500 the fastest machine in its size class," emphasises Christen, adding: "At the same time, ELIOS is just as precise and reliable as all other Netstal machines."
The centrally aligned toggle lever ensures an optimum introduction of force into the centre of the mould installation space, and hence uniform distribution of the clamping force.
The extremely stable and strength-optimised design effectively prevents any deformation of the mould plates. In addition to its high speed, the new clamping unit offers an opening stroke of 1 000 mm as well as a widely spaced column distance of 1 050 mm x 1 050 mm.
However, it also has another key advantage because it is able to recoup kinetic energy. The energy generated during braking processes flows into the electric motor of the main drive where it is converted into hydraulic energy and stored.
"Because the energy generated in this way can be re-used in the overall system immediately, energy savings of up to 50 percent can be achieved compared to a fully hydraulic machine even during full-load operation," Christen emphasises.
Precisely configured integration into Netstal's modular portfolio
The clamping unit is complemented by proven high-performance injection units, which guarantee extreme accelerations of up to 20 G and maximum injection speeds of up to 2,200 mm/s thanks to their clever two-valve technology.
The intelligent, adaptive drive modules ensure a sufficient hydraulic performance and optimal energy efficiency throughout the entire system. The ELIOS series is seamlessly integrated into Netstal's modular product portfolio
Source: www.netstal.com