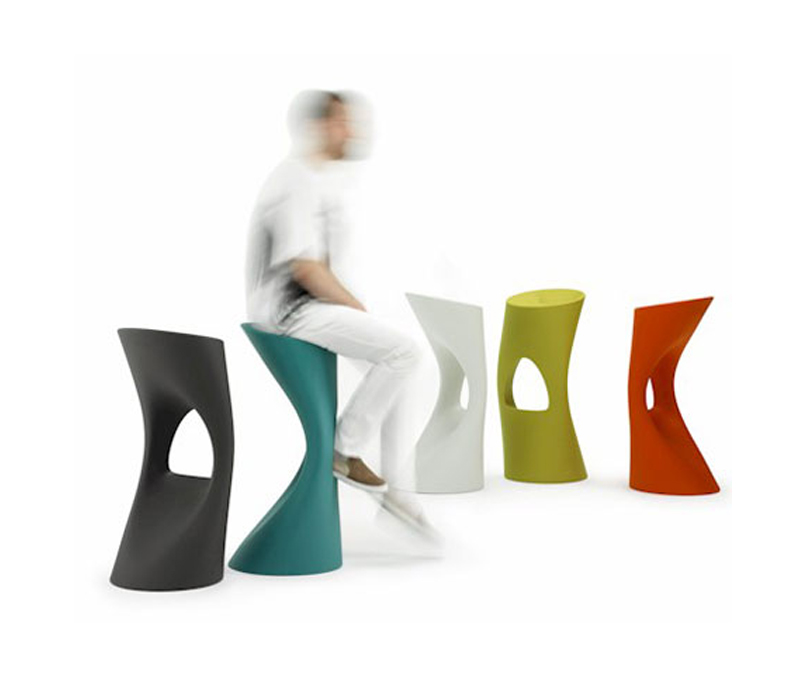 Designers are increasingly making use of recycled plastics in their work, as demonstrated by a recent project created from oddly shaped pieces of waste plastics after the injection-moulding process.
A group of German designers have created unique furniture pieces using waste plastic from the injection moulding process. The Scrap Life Project showcased plastic-topped stools made from recycled plastics at the recent Ambiente trade show in Frankfurt, Germany.
The designers got their inspiration during a field trip to northern Italy in 2013 after they had visited a large injection-moulding factory specialising in plastic chairs.
During the injection-moulding process, whenever a colour or material is changed, raw plastic escapes from the mould onto the floor and creates a pile of colourful melted plastic that solidifies into a plate shape.
After learning that all of the plastic plates were being discarded in the factory's rubbish bins, the designers decided to take some back to Germany where they hoped to put them to use.
The designers devised a method for pressing heated steel tubes into the underside of the plates to create a simple stool.
Due to the random mix of the material, and the uniqueness of the discarded moulded shapes, every stool represents a unique object with individual shape and character.
With the permission of the Italian factory owner, the German design team has managed to start mass production using the waste plastics material.
Recycled plastic is becoming a raw material commodity in the design industry. Repurposed plastics find its way into everything from statement furniture items to recycled plastic toys and home accessories.
Some designers foresee that alternative plastics and discarded materials from injection moulding processes will become more valuable as the planet runs out of raw materials, and consumers become more conscious about their purchases.
Read more about the Scrap Life Project at dezeen.com.
Plastic & Chemical Trading together with international partner KraussMaffei deliver world-class plastics, packaging, injection moulding, and extrusion solutions.