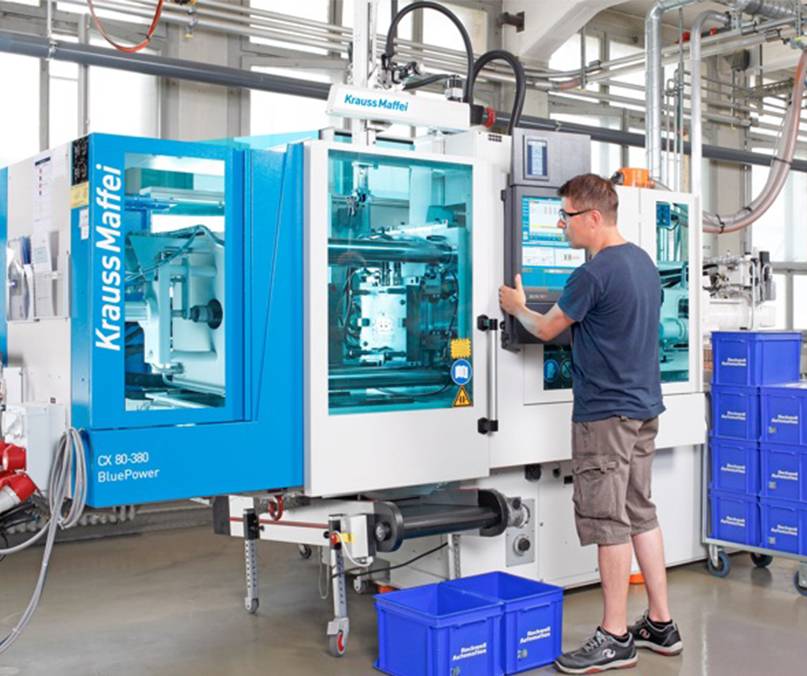 Plastic manufacturing processes are changing and improving, continually updating the ways that manufacturers fulfil product needs. Injection moulding compounding is a new processing approach which can be used to process highly-filled and/or long fibre-reinforced thermoplastics in the process of injection moulding. This direct inline-compounding enables the production of complex structures to couple with a high degree of automatization in a one-step process. This compounder allows the feeding of endless fibre-roving into the melt. The fibre is fed in near the end of the twin-screw extruder. This technique allows for longer fibres in the final piece, which enables better mechanical properties when compared to commercial long fibre compounds. These long fibre compounds are currently available in the market in the form of granules.
Injection moulding compounders enable the process of compounding and injection moulding in a simple one-step process, combining the advantages of continuous extrusions with the benefits of discontinuous injection moulding. This type of machinery and methods have a number of advantages, with a cutting-edge compounding machine like the Krauss Maffei Injection Moulding Compounder (IMC) presenting advantages like:
Reduces material costs
Increased cost-effectiveness due to a combination of processes
Gentle material processing
Excellent homogenisation and dispersion effect
Uniform result
Controlled throughput using a gravimetric metering system and continuously operating conveyor systems
Reduced logistics effort
Can create customised material combinations
Integrated degassing zones which replace drying processes
High part quality
Ideal for long glass fibre processing
An injection moulding compounder is suitable for the production of automotive, packaging, major appliances and logistics parts. It's multifaceted use, and multiple advantages make it ideal for various industries, providing manufacturing solutions that suit the needs of today.
Plastic & Chemical Trading is a valuable technical partner that supports your manufacturing needs. Contact us today to ask how we can streamline and improve your business!