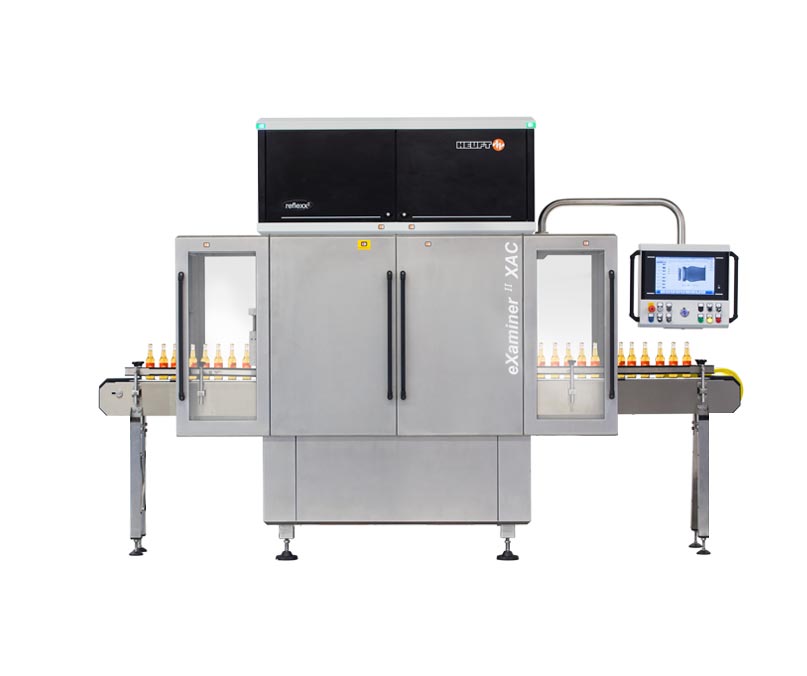 The prevention of safety risks in the food packaging and bottling industry is essential. The most efficient way is to be able to detect the hazard in the newly sealed container as early as possible on the packaging line. The compact HEUFT eXaminer XAC machine can detect foreign objects inside containers, even in non-transparent products. The machine's continuous monitoring can detect and reject any contaminated products from the production line.
The HEUFT eXaminer XAC can detect minute glass fragments, pieces of metal, plastic particles, and wood shavings that may be present in bottling or food packages. The HEUFT eXaminer XAC can help small and medium-sized manufacturers avoid the possible occurrences of human errors. It checks the most minute details which busy employees may miss.
Our partners, Heuft, outline the following the benefits of the eXaminer XAC:
"Maximum detection reliability due to a unique combination of X-ray strobes and full-field image converters;
Reliable inspection of larger containers due to extended sensitive detection surface;
Independent of product's own signal and metal packaging components;
Very clear, high-resolution X-ray images without distortions or motion blurs;
Unequalled low radiation emission;
Minimum false rejection rate;
Highly automated HEUFT SPECTRUM II platform with self-explanatory HEUFT NaVi user guidance;
Automatic adjustment of the detection units during brand and format changes;
Compact dimensions and hygiene-optimised HEUFT CleanDesign;
Online connection for remote maintenance and production data acquisition;
Performance range – up to 1,200 containers per minute."
The HEUFT eXaminer XAC has several functions that result in a series of processes that allow for consistent inspection or detection of foreign objects. This includes; X-ray based inspection, sidewall inspection, fault rejection and product monitoring and self-tests.
Learn more about the HEUFT eXaminer XAC in part 2 of our series.