HOT RUNNER SYSTEMS – CASCADE INJECTION
Cascade injection the gentle way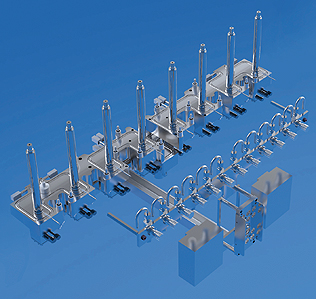 In the sector of Cascade Injection PSG offers two new products. varioFILL and VCON, the new solution for sequential control of the valve pin.
Eliminates pressure peaks and improves component parts
The opening time of the needle is precisely adjustable. The opening time of the needle is freely adjustable from 0.2 to 5 seconds. The gentle switching of the second nozzle reduces the loss in pressure of the first nozzle.
Impeccable surfaces
A volume flow controlled hot runner system prevents a potential brief melt stagnation and, hence, possibly occurring surface errors.
Visual display for simple operation
The opening time of the needle is valve-controlled. The opening time of each needle may be adjusted individually by a simple turn of the set screw. A connected display visualizes all activity, showing individual closing times and allowing the readout of the data via UBS to the documentation.
An Unbeatable Balance of Low Cost and High Value
The simplicity of the varioFILL mechanical solution results from a combination of innovative geometry, along with attention to the details. The result is savings on both expensive, complicated electronics, as well as unnecessary, training-intensive software. varioFILL guarantees maximum results for the minimum cost!