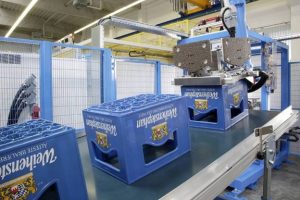 The manufacturing economy relies heavily on packaging in some form simply because products cannot be shipped through the supply chain (from source to manufacturer to retailer and finally consumer) without proper packaging.
The most familiar type of packaging in South Africa is plastic.  Moulded items specific to industrial logistics applications are normally larger and include items like crates, pallets, bins, wheelie bins and buckets.
This industry falls within the mid to large machine range and machines are typically around 400tons – 5000tons. KraussMaffei offers an extensive program which serves the specific requirements of the packaging and logistics industry.
A moulding machine working in this segment is faced with a number of key challenges. These include, very large material throughputs, part weight consistency, the use of recycled materials and stiffer tougher grades of Polyolefins that require high torque and very good melt quality for good moulding. In addition, good colour consistency and in-mould labelling are also an issue.
These challenges are no match for KraussMaffei's innovative machine designs.  The range includes the GX, MX and CX series of machines.
The MX series features one of the fastest large machines on the market with clamping forces up to 55 000 Kilonetwon (kN). The MX series is ideal for big sixed parts with defined properties such as pallets for logistics.
The GX series is the fastest global two-platen machine in the mid-range clamping force segment with forces from 4000 to 9500 kN and they are ideal for the production of crates and buckets that require low unit costs.
The CX series are the smallest of the range with clamping forces from 350 to 1600 kN, and have recently been reworked to offer more energy savings, more efficiency and faster cycle times.
For more information on these leading machines you can download the brochures below or contact us to find out which one of these is the right solution for you. Together we can implement a solution that will have you seamlessly manufacturing packing and logistics products for many years to come.
Link: Krauss Maffei >> Logistics Packaging