The new sumoFmax increases pin closing force
When it comes to protecting your hot runner system, PSG's hot half sumoFmax solution is unmatched. sumoFmax is a patent-registered, lever operated lifting plate.  It is a completely wired, ready to plug-in hot half solution that is customisable for your moulding requirements.
The system is easy to maintain and features a low mould closing speed at maximum closing force which means the closer the pin gets to the end position the larger the force gets as the mould closing speed reduces.  This results in better part quality as the plastic is compressed gently at the injection point.
The sumoFmax hot half solution achieves multiplied force and energy savings thanks to a slide role guidance mechanism, with integrated cranked lever that increases the force in the closing stroke. In the closed position of the pin, exactly where it is most important, the maximum closing force is achieved. This brings you a clear reduction of the standard operating units compared to customary stroke plates. It also allows individual pins to be shut down on demand.
Comprehensive Allround Package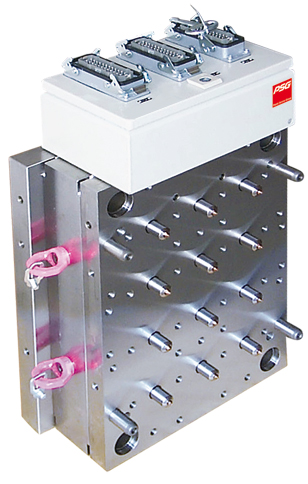 This world class hot half solution from PSG has numerous advantages including:
An application-oriented warranty and system guarantee
Optional 3-D filling simulation and calculation
Several gate versions from open execution to valve gate
Rheologically optimised flow-channels
Special and standard plate measures
Variable nozzle positions and nozzle lengths
Individual needle-operating or stroke plate
Rapid delivery times due to own production
If you're in the market for a hot half solution with a difference, why not partner with Plastic & Chemical Trading and PSG to integrate the sumoFmax into your injection moulding operation.